More uncertainty revolves around how thoroughly shippers and carriers, unhappy with West Coast delays, will look for alternative routes to and from Asia, particularly given the potential for more disruptions after the tentative deal runs its course in five years. Journal of Commerce speculates that a permanent loss of some cargo for the West Coast is inevitable. Next up: The East Coast dockworkers contract expires Sept. 2018. (Journal of Commerce, 2/23/15, 2/21/15; The Loadstar, 2/23/15; Politico.com, 2/23/15; Washington Post Wonkblog, 2/21/15; Reuters, 2/20/15)
USDEC board meeting: Expert panel examines global milk supply
A big reason for last year's protracted decline in international commodity prices and today's challenging market conditions was the spike in global milk production in 2014. USDEC members will get a first-hand look at world milk production trends and developments moving forward at the USDEC spring Board of Directors and Membership Meeting, March 31-April 1 at Chicago's Swissôtel.
Joel Mergler, VP of international development at Select Sires, will headline a panel titled, "Global Milk Supply: A Different Perspective Across the Pond." Mergler will share in-country insights gained on recent visits with producers across Asia, the Middle East and Europe. Mike McCloskey, co-founder and CEO, Select Milk Producers, and chairman of Fair Oaks Farms, and Paul Rovey, USDEC chairman and Arizona dairy farmer, will participate with Mergler in a panel discussion following his presentation.
To register for the meeting, click here. To download the preliminary agenda for the conference with the confirmed lineup of trade expert presenters, click here. To make hotel reservations, click here. The discounted room rate deadline is March 9.
Register now for U.S. Dairy Business Conference in Singapore
Registration is now open for the April 16-17 U.S. Dairy Business Conference in Singapore. The two-day conference features a roster of high-caliber speakers in a series of educational sessions aimed at delivering actionable insights on the latest market and product developments driving Southeast Asian dairy demand. Day 2 also features a risk management workshop that examines price volatility in today's global dairy market and the hedging tools available to mitigate it.
Ample networking opportunities—including a U.S. tabletop showcase and a reception spotlighting U.S. cheese and beverage pairings—provide time for U.S. suppliers to connect and discuss future business opportunities with Southeast Asian buyers and end users.
The conference will target general management, purchasing and marketing decision makers from dairy importers, foodservice operators, and food and beverage manufacturers across Southeast Asia. We expect 150 attendees, including participants, speakers and U.S. dairy industry representatives.
Apart from USDEC members, the conference is invitation only. We kindly request that you visit the U.S. Dairy Business Conference information page on the USDEC website and click on the "Invite Local Contacts" link to learn how to have an invitation to attend the event extended to your contacts in Southeast Asia. The information page also has links to the complete program agenda, FAQs, hotel information and registration details. To go straight to registration, click here. For further questions, please contact John Klees at jklees@usdec.org or 703-528-3049.
MARKET CONDITIONS
EU to propose payment plan to ease superlevy pain
The European Commission is reportedly preparing a proposal to ease cash flow pressures on EU farmers hit by superlevy fines for the 2014/2015 year. Nine nations—Austria, Denmark, Estonia, Hungary, Ireland, Italy, Luxembourg, the Netherlands and Romania—called for superlevy relief in this, the last year of EU milk production quotas. Fines are likely surpass the previous year's €400 million (about US$455 million). The Commission has no plans to absolve farmers of the charges, but it will allow them to pay in equal installments over two or possibly three years, interest free. Ireland, which is running 5.7 percent over quota, is tracking to record the largest fine: around €88 million. (Dairy Markets, 2/20/15; Irish Farmers Journal, 2/18/15)
EU and Oceania top ALIC whey and SMP tenders
The EU secured 83 percent of Japan's Agriculture and Livestock Industries Corp. (ALIC) Feb. 19 SBS whey tender. Six countries won 2,067 of the total 2,500 tons available, with Germany, France and Finland accounting for the vast majority. The United States took 158 tons.
In the Feb. 24 SBS tender for 3,000 tons of SMP, the United States secured 96 tons. The big winners were New Zealand, 997 tons; Belgium, 964 tons; Australia, 424 tons; and Finland, 374 tons. Germany and the UK picked up the remaining 145 tons. (USDEC Japan office)
TRADE POLICY
TPP ministerial moved as TPA legislation nears
Trans-Pacific Partnership (TPP) countries pushed back a planned ministerial meeting from mid-March to mid-April. The delay will give the United States more time to pass a Trade Promotion Authority (TPA) bill and negotiators more time to make progress on outstanding issues.
Republican leadership of the Senate Finance Committee and House Ways & Means Committee are close to introducing bipartisan TPA legislation. The only thing holding it back is a Democratic proposal backed by Finance Ranking Member Ron Wyden (D-Ore.) to revise procedures for a "disapproval resolution." Wyden is looking to make it easier for Congress to bring such a resolution, which would strip a completed agreement of TPA protection. Finance Chairman Orrin Hatch (R-Utah) said he would not revise current "disapproval resolution" requirements and called on president Obama to pressure Sen. Wyden to drop the demand.
In the meantime, TPP countries are holding intersessional meetings this week in Mexico and the United States, and chief negotiators and some working groups are slated to hold an informal negotiating round in Hawaii from March 9-15. (Inside U.S. Trade, 2/24/15, 2/23/15, 2/19/15)
COMPANY NEWS
Mead Johnson to boost formula capacity to service China e-commerce biz
Mead Johnson plans to add capacity to infant formula manufacturing sites in the United States and the Netherlands and expand its product portfolio to service rising Chinese demand.
"The [Chinese] marketplace has changed very fast in the last couple of years, particularly the proliferation of new sales channels," CEO Kasper Jakobsen told attendees at the Consumer Analyst Group of New York Conference last week. "Most dramatic has been the emergence of e-commerce within China but even within e-commerce there are changes taking place. It is increasingly becoming about business-to-consumer as opposed to consumer-to-consumer and we believe that trend will continue for the years to come."
In 2014, Mead Johnson opened its own store on TMall, the popular online retail website operated by Alibaba Group. It also recently launched a branded "destination" on the Chinese social media platform WeChat, where it quickly gained more than half a million followers. (DairyReporter.com, 2/19/15; just-food.com, 2/18/15)
DineEquity rolls out international expansion plan
California-based DineEquity rolled out a five-year strategic plan for international expansion that will see it significantly increase overseas locations for both its IHOP and Applebee's names. The company, which currently operates 225 overseas units, spent the past year developing new prototype layouts, menus and marketing programs tailored to specific nations and regions. It plans to focus on Latin American, the Middle East and Southeast Asia. In 2014, it entered three new markets: Guam, Indonesia and Singapore. (Nation's Restaurant News, 2/20/15)
Company news briefs
Mengniu Dairy is setting up a new subsidiary called Yiqing Food to manufacture soft-serve ice cream mix . . . New Zealand's A2 Milk filed an application to list the company on the Australian Securities Exchange. Six-month revenues through Dec. 31 jumped 38 percent to nearly NZ$75 million, despite the fact that the company did not ship its first approved consignment of A2 Platinum infant formula (manufactured by Synlait Milk) to China in December 2014 . . . Parmalat Canada is closing its Marieville, Quebec, cheese plant and transferring operations to its Victoriaville, Quebec, facility, as of Sept. 30, 2105. Victoriaville will also see the addition of a new mozzarella line. (Company news; Want China Times, 2/22/15)
WEBSITE TIPS
New website feature: USDEC's "top charts"
Have you ever needed a chart that helps you tell the story of U.S. dairy exports? Perhaps you want data to insert into your PowerPoint presentation on the percent of U.S. milk production heading overseas.
In the past, you may have picked up the phone or emailed a request to us. We now have a faster and easier method for you in the redesigned usdec.org. It's a new section we call "top charts."
There you will find seven of our most requested charts.
There are several ways to save the image for yourself, dependent upon your computer. One way is this:
Put your cursor on the "top chart" you like
Right-click
Choose "save as"
Save the image file to a destination on your computer
Insert the image file into your presentation
Your audience will see something clean and authoritative like this: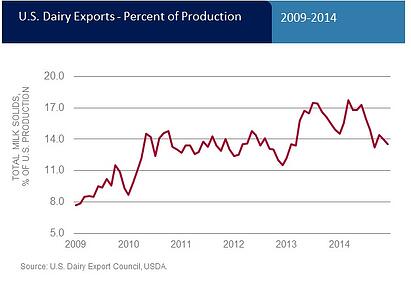 Recent posts from The U.S. Dairy Exporter Blog: